Get Firmer Buttocks, Inner Thighs, And Pelvic Muscles. Just 2 Minutes A Day!
This Pelvic Muscle Hip Trainer gives you a firmer buttocks, inner thighs, and pelvic muscles with only a few minutes of use per day! Get that dream booty in no time!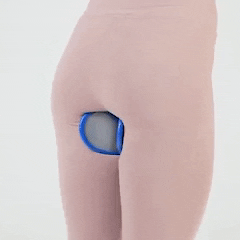 The Pelvic Muscle Hip Trainer helps you maintain a healthy pelvic floor. While simultaneously squeezing and contracting those buttocks into shape and form!  The Pelvic Muscle Hip Trainer even helps work to improve your posture.
With just a few minutes a day you can achieve better pelvic floor strength, improve your bladder control, and build your self-confidence. It's SO EASY and only taker 3-5 minutes workout a few times a week! 
The Pelvic Muscle Hip Trainer is so easy to use!
Stand or lie down, facing your exercise mat, with your arms extended and your palms or elbows down on the mat.

Then put the Pelvic Muscle Hip Trainer 1-2 inches below your buttocks

Open your legs 40 degrees, then applying pressure with your inner thighs, squeeze.
Features:
Lightweight, durable, and easy to use

- Our hip trainer is made of eco-friendly PVC material and thick carbon steel covered by soft rubber, which makes it durable, comfortable, and effectively sticks and protects the legs.

Adjustable

- The elastic strength is adjustable, fits to the ergonomic design, comfortable and free, suitable volume size can be carried with you, ensures simple maneuverability. It is also suitable for women of different ages.

Helpful to Women

- Suitable for women who work sedentary and to postpartum mothers who are worried about the flatness of the buttocks.

Effective Workout Device

- Effective way to treat weakened pelvic muscles, as well as tone and tighten thighs, buttocks, and lower abdominal muscles.
Exercising with our Pelvic Muscle Hip Trainer is a fun way to strengthen and tone your pelvic floor! It's lightweight and small but offers you a thorough workout. Whether you're at home or at the office, you'll find that it's convenient and easy to strengthen and mold those buttock muscles into shape!
Specifications:
Item Type: Hip Exerciser Tool
Material: PVC + Steel
Item Size: Approx. 25 * 16cm/ 9.8 * 6.3inch